GRID
Confident policy making, asset management, and investment require accurate performance data. Benchmarking is the process of tracking and recording a building's energy & GHG performance over time and comparing that performance to other buildings in its class.
Benchmarking and disclosure are effective ways to stimulate voluntary action to reduce carbon emissions from buildings, with 10%-15% reductions typical in the first couple years of a program. And increasingly, benchmark data is playing a critical role in our pathways to net zero emissions, highlighting the best places to direct our policy and financial resources to achieve the best climate outcomes.
GRID helps jurisdictions to run benchmarking and disclosure programs, providing a data backbone to inform policy development in service of energy and carbon efficient cities.
For building owners, benchmarking can help to identify opportunities for value through operational efficiency and asset improvement projects.
GRID was developed with initial support and collaboration from Natural Resources Canada, which has been building out the building energy data collection pathways for over a decade. NRCan, like OPEN, saw the need for consistent, comparable, and rigorous tools for jurisdictions to aggregate performance data…. hundreds or thousands of buildings at a time.
Building Benchmark BC
Sixteen of British Columbia's largest municipalities –  representing ~75% of the eligible large buildings in the province – participate in this multi-year pilot, which is also administered by our affiliated OPEN Green Building Society. Building Benchmark BC is supported by participating jurisdictions plus NRCan, Real Estate Foundation of BC, and CleanBC Building Innovation Fund
City of Calgary
Calgary has been using GRID for its voluntary benchmarking and disclosure program since its first reporting cycle in 2019.
Province of Nova Scotia
Efficiency Nova Scotia is Canada's first energy efficiency utility, tasked with driving efficiency across Nova Scotia's built environment. Their benchmarking program has been confirmed for the 2020 and 2021 reporting cycles.
To learn more about the program: Program Page
To see the results in action: Coming soon!  Watch this space
Canada Green Building Disclosure Project
OPEN was grateful to be a part of the core working group for CaGBC's early push to show private sector support for building energy performance transparency, and to run the program's disclosure elements on GRID since the 2018 reporting cycle.
Overview of GRID
The GRID Benchmarking & Disclosure Platform is OPEN's core product. In 2018, OPEN received initial funding from the Government of Canada to build GRID as a tool that would:
Ensure a consistent, comparable, and rigorous framework for running benchmark programs across the country, informed in part by best practices in other countries;
Integrate building level data from ENERGY STAR Portfolio Manager (ESPM) and other sources, such as Excel spreadsheets;
Provide program managers with tailored project management tools (eg. to track reporting and validation statuses); and
Provide building owners, program managers, and the general public with usable, highly visual data insights.
In short, GRID helps benchmark program managers to collect, clean, manage, and visualize climate-related data about buildings—thousands of buildings at a time.
For Program Managers (Government or Financial Sector)

Data collection and management:
Integration of datasets from ENERGY STAR Portfolio Manager (ESPM) and other sources (eg. building asset information, capital project documents, etc.) as required to meet program objectives. 

Ability to automatically flag for various data compliance issues: e.g., missing, partially complete, errors detected, etc.  

Automated error detection & reporting (including both critical errors and variance warnings).

 
Compliance Management Tool
Program management dashboard showing participant buildings by customizable statuses (awaiting data, partial data, data under review, completed, etc.).

Management of building contacts, primary vs secondary contacts, phone numbers, email addresses, and contact-specific notes.

Assignment of contacts to properties, and assignment of team members and actions.

Ability to send emails, scorecards, and log these communications, plus personalized comments to individual properties.
Visualization, Reporting, & Analytics:
 

Purpose-built data visualization and analytics portal with a map view and histograms, filterable to enable the user to interpret and isolate data in multiple ways.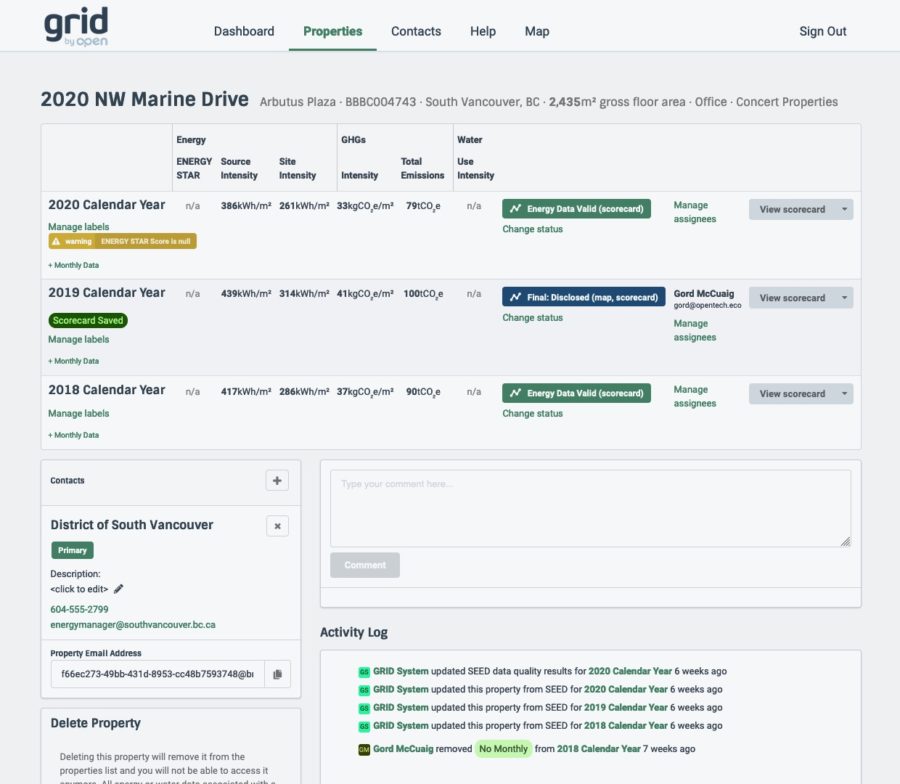 For Property Owners/Managers
Data collection and management:
Use of ENERGY STAR Portfolio Manager (ESPM) or other incumbent reporting tools as the primary sources of data input on building attributes and utility.
Visualization, Reporting, & Analytics:
Building level "scorecards", providing each property owner with key benchmark information. Development is underway to also provide high level diagnostics and end-use breakdown to guide candidate Energy Conservation Measures (ECMs), as can be extrapolated from monthly utility data, weather information, and related datasets.
For Public Stakeholders
Visualization, Reporting, & Analytics:
Public data portal with a map view and histograms, filterable to enable the user to interpret and isolate data in multiple ways.
Clickable building summaries and case studies / highlighted sustainability projects.
Let's talk!
We'd love to discuss your benchmarking and disclosure program, and see if GRID would be a good fit to help make the process easier.
Please reach out to info@opentech.eco or fill our contact form below to book a demo or a conversation.